The Body & Blood of Christ(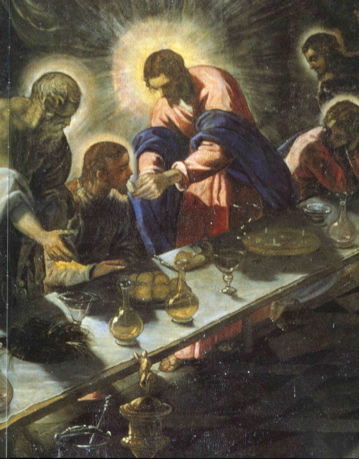 Today we come together to celebrate the Feast of the Body and Blood of Christ, traditionally known by its Latin title: Corpus Christi. We remember with gratitude and celebrate Jesus' gift to us of his Body and Blood.
What does it mean to give your body for someone? To give your body is to give your time, your activity, your energy, your work. I think of my father, suffering from asthma and with a bad heart, going in each day to work in a draughty passage-way, checking the arrival and departure of wine and spirits from a large Tooths complex in Sydney - earning a living for us eight children. Being already eighteen years older than Dad was at his death, I realise something of what it might have meant for him to battle ill-health to carry out his commitment to provide for his family. How many men and women working in paid employment have similar heroic stories to tell.
I think of my mother managing the home and creating the space where my father could find peace, and where we children could learn by example that our lives mattered, and that it was important to live to the full, contributing what we had to offer for the well-being of others. Those of us whose mothers are either in paid employment or have have chosen to forgo their career, have seen them making the sacrifices necessary to devote themselves to a life of giving in the home and in the community. We, know something of what it means for someone to give us the gift of her body.
We could think of some of our teachers. We could think of the thousands of public servants who spend their days creating and maintaining the environment which we tend to take for granted till we visit a country where it is lacking, and realise, with gratitude, how blessed we are.
What does it mean to give your blood for someone? To give your blood is to give your life, to give your heart. You can give your body for someone - you can work for them - but it is only when you give your heart as well, that your gift is truly personal. We are called to give, not only our time and our work. We are called to give ourselves. It is the pouring out of one's self in love that is symbolised in the word blood. To give your body and blood for someone, is another way of saying that you love them with "all your heart and mind and soul and strength"(Mark 12:30).
Today we think of Jesus. He gave his body for us. He poured out his life for us. He gave himself, day in and day out, to teach and to heal, to comfort and to challenge, to forgive and to love. In a thousand practical ways, he gave himself to us, showing us what it means for God to hold us in existence. As he says once: 'The Father goes on working and so do I'(John 5:17). He gave himself for us, making the ultimate sacrifice of his life. He loved us when it was easy and he loved us when it was hard. In giving himself - his body and blood - for us so convincingly, he revealed to us that, whoever we are, whatever we have done, wherever we have been and whatever others may think of us, God loves us and wants us to live and to live to the full.
This was made especially clear at the last supper. As he broke the bread to share it, and as he poured the blood-red wine for his friends for the last time, he could not help thinking of his own body and his own heart which was about to be broken for them. All he had left was his life, and he wanted to give it for those who had drawn close to him during his public ministry. His heart is the heart of God, however, and so he wanted to give himself, body and blood, for every man, woman and child who is born into this world. So he made of this meal a sacrament that would enable him to give himself to us everywhere till the end of time.
He had said: 'When I am lifted up from the earth, I will draw everyone to myself'(John 12:32). He does this in so many beautiful ways, but nowhere more powerfully than here at the Eucharist. There is always a wonderful harmony in the way in which God acts in our world. Here we recall Jesus' final meal, as we gather to celebrate a symbolic meal. Bread and wine engage our hunger and thirst - not for physical food and drink, but for the food and drink for which our soul's long: intimate communion with God and so with each other at the deepest level of our being. As in all the sacraments, there is no physical or chemical change taking place. The change is at the level of meaning. Jesus has given a new meaning to this consecrated bread and consecrated wine. He who is really present among us, though invisibly, assures us that when we eat this bread and drink from this cup, he is giving himself to us in love, he is giving us his body and his blood.
The opening words of today's Responsorial Psalm ask a question: 'How can I repay the Lord for his goodness to me?'(Psalm 116:12). We might ask ourselves what we can do in response to such a gift? Jesus gives us the answer: 'Do this in memory of me'(Luke 22:19). Do what? Do what I have done. Give your lives, pour out your life-blood, your energy, your spirit, your love, for each other, just as I have. 'Love one another as I have loved you'(John 15:12).
Jesus wants the whole world to come to know God's love. He wants the whole of creation to be a sacrament of love. The bread that we placed on the altar today, and the wine poured into the chalice, has, by a miracle of God's grace, been caught up into the mystery of God and has become, for us, a sacrament of the Body and Blood of Christ. Jesus wants everything to be a sacrament of his love. He wants the whole world to be transformed by love into a new creation. He wants the sun to be a host rising up to bless and nurture the whole world. He wants every celebration to be sacred so that his life-blood may be poured into all the thirsty hearts of our world.
When we approach the altar to receive communion, we are making a commitment to give our bodies for each other: give our time, our activity, our hard work, our fidelity to our commitments, our willingness to care for others when we feel like it and when we do not feel like it. By drinking from the cup we are saying that we welcome Jesus' gift to us and that we will drink the cup that he drank. We will give ourselves to each other; not just our work but our selves. This is the way that the world will be truly Christianised.
Teilhard de Chardin, a Jesuit priest and scientist who died in the middle fifties, wrote: 'It is a matter of life and death that the earth should flourish to the utmost of its natural powers … Too many Christians are insufficiently conscious of the divine responsibility of their lives. They live just like other people, giving only half of themselves, never experiencing the spur or the intoxication of advancing the kingdom of God in every domain. If you must blame us, then blame our weakness, not our faith. Our faith imposes upon us the right and the duty to throw ourselves into the things of the earth'(The Divine Milieu, page 69).
He also wrote: 'Those with a passionate sense of the divine cannot bear to find things about them obscure, tepid and empty, when they should be full and vibrant with God. They are astonished by the number of people linked in the unity of the same world, who are not yet fully kindled by the flame of the divine presence. There was a time when they thought that they had only to stretch out their hands in order to touch God to the measure of their desires. Now they see that the only embrace capable of enfolding the divine is that of all mankind opening its arms to call down and welcome the fire. The only subject capable ultimately of mystical transformation is the whole family of mankind forming a single body and a single soul in love'(The Divine Milieu, page 144)
Today's responsorial psalm includes the words: 'My vows to the Lord I will fulfil'. Our baptismal vows commit us to give 'all our heart and mind and soul and strength' to bring about the reign of God's love. It is a commitment to love the world with the love of the heart of God. As we receive his body and blood in communion, let our hearts fill with gratitude for this amazing gift from the heart of the risen Jesus who wants not only to be close to us, but to fill our veins, to dwell within us as in a temple and to bring with him his Father and the Spirit who unites them in love. Let us also remember that in receiving his body and drinking his blood, we are making a commitment to do what Jesus did. We cannot be content till we see the whole world opening its arms to embrace God. Nothing less can satisfy the hunger and thirst in our hearts. In the meantime, let us today open our hearts to receive Jesus, for it is he who, working in us, will, as Paul promises, 'accomplish abundantly far more than we can ask or imagine'(Ephesians 3:20).