Fifth Sunday of Easter
Today's Responsorial Psalm comes from the final verses of Psalm 22, the psalm which begins with the words: 'My God, my God, why have you forsaken me?' - words prayed by Jesus while dying on the cross. The verses selected for today's Mass give expression to wave after wave of exultant praise. Israel is invited to praise God, then all the nations of the world are asked to join in, and then finally – and this occurs nowhere else in the Hebrew Bible – all those who have died and all yet to be born are invited to join the chorus. Though the psalmist feels forsaken, God has not abandoned him and he wants the whole created world to share his joy. The Church chooses this psalm in this Easter season because God has heard the cry of Jesus and has taken him into eternal life in the resurrection.
It is our hope that we too will be raised to life after death, and this Christian hope colours the way in which we experience the sufferings and the joys of this present life. You are probably familiar with the prayer of Saint Augustine: 'You have made us for yourself, O God, and our hearts are restless till they rest in you'(Confessions 1.1).It is our belief that God is love and that God gives expression to this love in creating each and every one of us to share his being and to enjoy communion with him. We already enjoy this communion, but here in this present life it is always tangled up with the reality of sin and with our struggle to achieve purity and to find full freedom and perfect love. Our heart is restless. because of what Jesus tells us about God and because of his resurrection, our hope is that beyond death we will indeed enjoy unclouded vision of God and perfect love. Saint Paul writes: "No eye has seen, no ear heard, nor can the human heart conceive what God has prepared for those who love him"(1Corinthians 2:9).
In the Book of Revelation, we are told: 'He will wipe every tear from their eyes. Death will be no more; mourning and crying and pain will be no more'(Revelation 21:4). In this same Book of Revelation, the last book of the New Testament, Jesus is compared to a Bridegroom gathering the Bride to himself. We are encouraged to respond to the call of the Bridegroom and to come to him, for he wants only to offer love. We are asked to come as we are, for the offer is free. We have only to open our hearts to receive it (Revelation 22:17).
We can experience the beginnings of this intimacy. We have a powerful image of this in the Beloved Disciple resting on Jesus' breast at the Last Supper. Each of us is invited by Jesus to be the Beloved Disciple today as we share in this Eucharistic meal.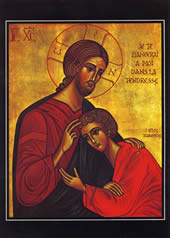 Jesus says to each of us: 'Come to me, you who are over-burdened, and I will give you rest'(Matthew 11:28). He is inviting us to share in the love of the Blessed Trinity. The Father cannot be seen, but in seeing Jesus we see the Spirit of love that binds the Father to his Son, and we see that the Father is love.
Some twenty or so years ago I was chaplain at the University of NSW. One day the gardener popped in to my office and asked me to explain the Trinity to him. Fortunately I had enough sense to pause and to ask him first how he saw it. In a way that nicely avoided abstraction, he went straight to the heart of the mystery by speaking of the Trinity in terms of Dance. The way he saw it, he said, was that the Father is the Dance, the Son is the Dancer and the Spirit is the Dancing. We come to know and see the Dance when we come to know and watch the Dancer. We experience the Dance when we are drawn by the Dancer into the Dancing. One could speak of God as Life, of Jesus as the one who lived this life and of the Spirit as the experience of living. Perhaps best of all we can speak of God as Love, of Jesus as the Lover who incarnates this love, and of the Spirit as the experience of Loving that we give and receive and enjoy because of Jesus.
Our longing for heaven is not meant to deflect our gaze from the earth and the life God graces us to live now. Teilhard de Chardin, the famous Jesuit palaeontologist, expresses well the purpose of our life: 'Some day, after mastering the winds, the waves, the tides and gravity, we shall harness for God the energies of love. And then, for the second time in the history of the world, we shall have discovered fire'. This is the fire that Jesus came to cast upon the earth. Paul said that whatever we have achieved, if we have not learned to love it has all been wasted. We are nothing if we do not have love (1Corinthians 13). John of the Cross reminds us: "At the evening of life, we shall be judged on our love"(Saying 64, quoted in the Catechism n.1022). This could tempt us to despair, for we have all failed in love. This is where the Gospel becomes so important. Jesus did not say 'I am a vine and I want you to be a vine as well'. He said 'I am the vine, you are the branches'. He is the one who loves. However imperfect we are, and however much we have failed to love in the past, and however isolated or lonely we might now feel, if we cling to the vine, the sap of his love will flow through us and we will find ourselves bearing the fruit of love. The fire we are to discover is the fire of love burning in the Heart of Jesus. It is his gift to us.
We are fragile people, and we find ourselves succumbing to temptation and stumbling into sin. In today's Second Reading, John speaks of this, and of how we experience guilt as our conscience recognises our failure. However, he tells us not to wallow in guilt, but to get on with the task of loving, for the God who loves us is 'greater than our hearts'. An ancient Christian hymn reminds us that where there is love, there is God ('Ubi caritas et amor, Deus ibi est'). It is when, through the grace of God we find ourselves still able to love that our hearts find courage to go on, for if we are really loving another then this is a sure sign that God is dwelling in us. As Father God continues to hold us in being. As Word, God continues to give Himself to us. As Spirit God breathes healing love into our broken hearts and broken lives..
The answer to the question "Who am I" is found here. We are creatures called to share in the intimacy of God's love. That is why we experience this insatiable longing for love. To quote John of the Cross again: 'God dwells within you. You are yourself the tabernacle, his secret hiding place. Rejoice, exult, for all you could possibly desire, all your heart's longing is so close, so intimate as to be within you; you cannot be without him'(Spiritual Canticle 1,7).
We cannot be assured of happiness here in this present life. Too much depends on the way we and other people respond to grace. We have some control over our own response, but very little over that of others. When we or others close ourselves off from God's love we bring suffering upon ourselves and other people. God attracts us to truth by love. He does not force us. So, here, in this present life, we have to live with the ups and downs. We are sustained by our faith in the fact that God is always present to us, that every situation is graced, that nothing can separate us from the love of God if we cling to him in love. Thanks to the resurrection of Jesus which we are celebrating in this holy season, we are also sustained by our hope that the goal to which God is constantly drawing us is to be with Jesus. We will see him face to face, and united to him in God's embrace, we will be forever in communion of love with all those dear to us. This is our hope. Buoyed up by it let us get on with the privileged mission of harnessing for God the energies of love - our own love, however imperfect, and the love of everyone we meet. There is no more worthwhile project. We were created precisely for this.
Let us conclude where we began. When we experience the limitations of our love, especially when we experience failure, let us cry out with the Psalmist and with Jesus: 'My God, my God, why have you forsaken me?' But as we cry let us know in faith that God will certainly hear our cry, and that, whatever the suffering which we now experience, we will one day sing our hymn of praise. Jesus was raised from death to life by his Father. It will be the same for us. Praised be God.