Easter Sunday
This is the day for which we have been preparing since the beginning of Lent. Jesus believed that his Father would not abandon him but would take him from the cross into his eternal embrace. It was this faith that sustained him especially throughout his suffering and crucifixion, the terrible ordeal on which we have been accompanying him over the past few days. Today, with great joy, we celebrate the triumph of love over death. Jesus is alive, and we know that what God did for Jesus he will do for all of us who place our trust in him. God made everyone for love and the faith which we have caught from Jesus is that it is God's will that every person be saved from sin, that is to say, from everything that separates us from God's love and hardens us against receiving God's loving Spirit. It is God's will that everyone be saved from death to enjoy forever the communion of love for which we are created. All of this we celebrate on this day of Easter, the foremost feast of the Church's liturgical year. Every Sunday Mass is a reliving throughout the year of the Easter Mass that we are celebrating together today.
In today's readings we hear from Peter, Paul and John, three leaders in the early Christian community. In the First Reading, Peter witnesses to the fact that Jesus who died on the cross has made his living presence known to Peter and to others in the community. This experience was so convincing that Peter has emerged from the fear and despair that he experienced consequent upon Jesus' death, and we see him fearlessly reaching out to everyone to share with them what he has come to know. He knows that it is especially our sins that drag us down and we hear him assuring us that Jesus came to show us that God does not condemn us because of our sins. No, God overwhelms us with his love so that we can find the courage to leave sin and to commit ourselves to a life of love. The Resurrection of Jesus is the proof that Jesus was right and the guarantee that we have the Spirit of Jesus to continue sustaining us through the ups and downs of our lives, through our suffering and death. Since Jesus is raised into God's eternal embrace, we too will be raised with him.
In the Second Reading, Paul begs the people of Colossae not to get so caught up in the surface distractions of this life that they forget to raise their minds and hearts to heaven where Jesus is drawing us, through his grace, into the real love for which our hearts long. Paul uses the image of below and above to make his point. We could make the same point by speaking in terms of surface and depth. We don't have to go up to be with God. God does transcend the whole of this created universe, but God, as we know, is at the heart of everything, sustaining everything and everyone in existence. Jesus taught us to find God at the heart of things: in the market squares, in the desert wastes, at a wedding banquet and by the side of the road where a blind man is begging for sight. Jesus whose resurrection we are celebrating today is forever in God's embrace. Wherever God is, there we find the Spirit of Jesus our brother praying for us and offering us and all those we love a share in his joy.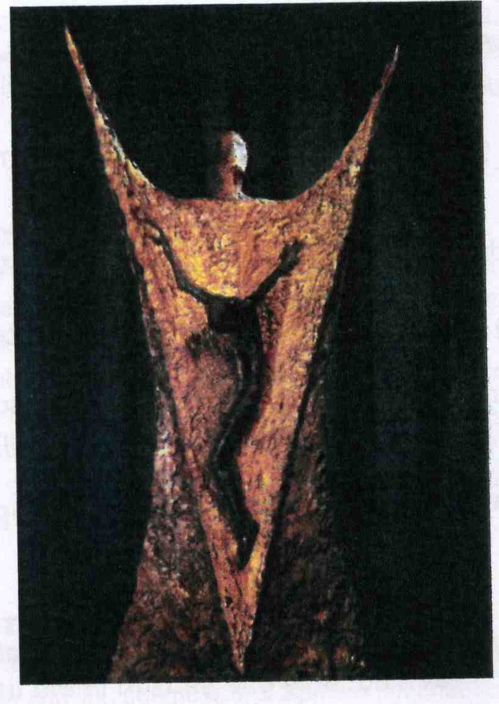 The resurrection of Jesus is the proof that God is as Jesus believed him to be. It is the proof that though everyone else abandoned Jesus, God did not. It is the proof that good will ultimately triumph over evil, and that the wielders of unjust power do not have the final say. The resurrection of Jesus encourages us, as it encouraged Jesus' first followers, to follow the way he showed, even through apparent failure, for it proves that there is a justice that transcends death and the limited horizons within which we tend to live our lives.
I would like to reflect with you on two questions: 'What convinced the first disciples that Jesus had indeed risen from the dead?' and 'How might we share this same conviction?'
In today's Gospel we see the stone rolled back and the cold, gaping emptiness of the tomb. There is something very different about this narrative and that of the raising of Lazarus. Lazarus came forth from the tomb still wrapped in the burial cloths, for death kept its hold on him. He would still die. In today's Gospel, the cloths are left behind – a sign that death could not hold Jesus in its clutches. The cloth covering Jesus' face is singled out, for now Jesus' face is unveiled. Those who look upon the risen Christ will see the glory of God revealed. While the empty tomb does not, of itself, tell us what happened to Jesus, it does raise a question and it prepares us, as it prepared Mary of Magdala, Peter and the Beloved Disciple, to be vigilant so that when the risen Christ made himself known to them they would be ready to recognise him.
You will have noticed that in today's Gospel it is the one who loves who grasps the significance of the empty tomb. We are told that it was the disciple whom Jesus loved who 'saw and believed'. A similar message is conveyed in the scene that immediately follows today's Gospel. The other disciples return home, but Mary of Magdala continues to linger by the tomb. She refuses to give up the search and so Jesus comes to her. As Jesus himself promised at the Last Supper: 'I will reveal myself to those who love me'(John 14:21).
All the resurrection appearance stories that we will be reading over the Easter period are icon-like portraits in which the Gospel writers express the various ways in which Jesus' disciples became aware of Jesus' living presence among them in the days after his death. If we place ourselves in the various scenes we will notice that it is in these same ways that Jesus has revealed himself to us. The story of the two disciples on the road to Emmaus dramatises the fact that they experienced him as their hearts burned within them when they reflected on the sacred Scriptures in the light of the events of Jesus' life and death. The scenes in which we see Jesus conversing with Peter and the apostles, dramatise the truth that Jesus' followers experienced him among them when they found themselves being called by him, forgiven by him, loved by him and commissioned by him to share this love with others. The life that they experienced welling up within them was that of Jesus himself. It was his Spirit who inspired them, and it was the power of his love that bore fruit in their ministry. The feeling of communion that they experienced, with God and with each other, was inspired and made possible by the Jesus whom they had known. He was not dead but alive in God, and present at the heart of their lives.
This was especially the case when they assembled on the first day of the week to celebrate the beginning of God's new creation, as we are assembling today. So many of the Resurrection narratives centre on the Eucharist. This is because it was at the Eucharist that, in a special way, they remembered Jesus. It was there that they heard his word proclaimed. It was there that they experienced the presence and power of his living and life-giving Spirit. It was there that they experienced their own communion as his body. It was there that they experienced the reality of his presence, nurturing them as he had always nurtured them, inspiring them as he had always inspired them, forgiving them as he had always forgiven them, calling them as he had always called them, and sending them out to draw others into the community of his love.
These were for them, as they are for us, faith-experiences, possible only to those who are in touch with the subtle movements of the Spirit of God in the depths of their lives. They were love-experiences. Their value is seen in the value of the lives of those who dared to believe.
How might we share their conviction? The Beloved Disciple gives us the answer. We must first contemplate the crucified one, for only by looking upon the one we have pierced can we see the heart of God laid bare (John 19:34-37). Only there is the veil removed so that we can see 'the glory of God in the face of Christ'(2Corinthians 4:6).
But it is not enough just to contemplate Jesus crucified. We must experience him for ourselves as he continues the mission of love given him by God. Like Thomas, we will do this only when we listen to him calling us to reach out and touch his wounds (John 20:27). For whenever anyone is hungry or thirsty or naked or sick or imprisoned, the heart of Christ is pierced. This was the experience of the first generation of Christians, and it has been the experience of hosts of Christians since. It is when we allow him to live in us (Galatians 2:20), and to reach out to the oppressed through us, that we will experience him alive among us, and with Thomas we will find ourselves saying in sacred awe: 'My Lord and my God'.
Today's feast gives us hope for those we love who have died. It also gives us hope for ourselves. As Paul says in the Second Reading: 'When Christ is revealed – and he is your life – you too will be revealed in all your glory with him'.
There were those in Jesus' day whose only reason for hope was Jesus himself and the way he mirrored God's love to them. May all of us, especially those who are without hope this Easter, find ourselves looking at the love of Jesus' disciples and crying out in wonder: 'Jesus is risen! Praise be to God!'