Good Friday
This week hundreds of millions of people remember the death of Jesus of Nazareth. As a politically motivated murder of an innocent and loving man, it runs to a pattern with which our world is, unfortunately, all too familiar. Yet there is something about the crucifixion of Jesus that continues to haunt our minds and hearts. Why? It witnesses to the folly of people attempting to define the divine, the folly of an established group thinking that they alone possess the truth and have a mission to impose it on others. Those responsible for the death of Jesus were convinced that they knew God. They knew where to find God and they knew how God was to be worshipped. They failed to recognise God at the heart of the love of this Galilean carpenter. Their laws, their traditions and their theology contained much that was inspired and that could reveal the divine and draw people into communion with God. But they seem to have lost the sense of wonder, and they failed to share their traditions humbly and with joy, open to the new wine of God's continual self-revelation. Religion was being used to prop up authority and power, when it should have been a way of keeping people in touch with their own hearts and with God – the name we give to the mysterious, life-giving presence at the heart of everything.
And Jesus challenged them. He challenged them with authority because he spoke from the heart and to the heart, and people listened. He spoke not of conformity but of freedom, not of rigid rules but of springs of water welling up in people's own spirit. He spoke not of laws etched forever on stone, but of sacred relationships based on shared values, nurtured in prayer – values to which people were to be committed with their whole heart, mind, soul and strength. He gave an example of freedom that was too scary for many, and he challenged people to live as he lived. Some obstinately resisted him and eventually brought about his death.
The cross was thrown up against the sky for all to see. It stands as a challenge to our stupidity in attempting to limit the divine to areas that we can control. Some, like the scribes, try to lock God inside the written words of the Bible, fixing their gaze on its surface meaning, rather than allowing its poetic and dramatic grandeur to draw them into the mystery of divine communion. Others, like the Sadducees, lose God in the musty libraries of tradition, adhered to with no appreciation of the limitations that are necessarily part of any expression of religious experience. The cross reminds us to share with others only those things that we hold in wonder. The cross also points to the sad pettiness of an identity that is based on the adulation of a Caesar. Pilate sits in judgment and washes his hands. Jesus is manacled and scourged. But we know which of the two is the free man.
And the crowd! There is something very rich and stimulating about a group of people in which the individuals retain their freedom and their intelligence and choose to work together in a common task. But how often, as with this crowd, a group feeling takes over, insecurities are falsely bolstered, and intelligence is swamped by manipulated psychic contagion. Such was the crowd that cried, 'Crucify him!' Such is the crowd to which politicians, advertisers, pop-stars and preachers are tempted to appeal. The cross reminds us: 'What is the point of gaining the whole world and losing your self?'
The cross and all it represents is all too present in our personal, social and international world. On this Friday we dare to look at it honestly. We dare to do this only because of the one who is dying upon it. Our hearts are focused on the central figure on the cross. We wonder at the incredible freedom he possessed to be able to sustain what he did alone, to remain loving when his enemies were successfully achieving their ugly goal, and to remain trusting in God, when his friends had dispersed and he felt totally abandoned.
His faith in himself, in others, and in life, found expression in and through the people and events of his daily life, but it transcended them. He was in touch with the heart of life, and at the heart he found the mystery we call God – a mystery he addressed as 'Abba! Father!' It was ultimately his faith in God that sustained him. It was this faith that convinced him that life was essentially something to be given in love: 'If you try to preserve your life', he said, 'you will lose it; if you give it away in love you will find it'. When people rejected the offer of love which God gave them through Jesus, and when, contrary to God's will, they perpetrated the injustice of the crucifixion, Jesus continued to follow out the mission of love to which he was called, and made of his death a final gift of love.
It is here that we find the reason for the haunting reality of the cross. For all our religious posturing, it reminds us that the ultimate experience of the divine is found in love. This is all symbolised in the terrible act of the man who thrust a lance into Jesus' heart. In that act we see the awful reality of our personal sins, and the sins of which we tend to wash our hands, but for which we are responsible. Whenever we sin against the truth, whenever we betray or abuse love, we thrust the lance again into the heart of Jesus.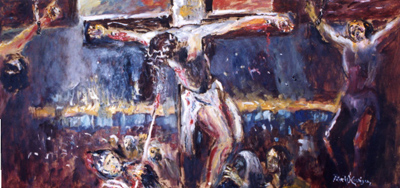 That lance revealed what is in God's heart. Water and blood issued forth. Water that cleanses, purifies, and refreshes; and blood that offers us communion in God's life. The water of baptism and the blood of the Eucharist. In our personal lives we know that there is no greater love than when we hurt another person and that person has the courage to keep loving us. If we wake up to what is happening the response of love that wells up in our hearts can overwhelm us. It is love of this kind that brings forgiveness and peace.
Watching the pierced heart of Jesus on Calvary, that is what we experience. There we see that God is love. Nothing we do can change that, not even our terrible sins. The veil that obscured our vision of God was, we are told, torn asunder. At last we are able to see who God really is, revealed in the prayerful, forgiving, life-giving, love-giving heart of Jesus.
Jesus' first disciples realised that Jesus' gift of himself from the cross had two implications for their lives. The first was their need to come together on the first day of every week (the day of the Resurrection) to support each other in their faith and to receive Jesus into their hearts in communion. We continue this practice in the regular Sunday Mass to which all are welcome.
The second was a commitment to love each other and to love the world the way Jesus loves. In 1900, in his book on the Sacred Heart, Father Jules Chevalier, the founder of the Missionaries of the Sacred Heart, wrote: 'From the heart of Jesus pierced on Calvary, I see a new world coming forth: a great and life-giving world, inspired by love and mercy; a world which the Church must perpetuate on the whole earth'.
It is not enough just to contemplate Jesus crucified. We must experience him for ourselves as he lives and continues the mission of love given him by God. Like Thomas, we will do this only when we listen to him calling us to reach out and touch his wounds, knowing that if anyone's heart is bleeding, the heart of God is suffering with them. 'Whatever you do to the least of my brothers and sisters, you do to me'.
If our hearts are moved by what Jesus offers us today, let us commit ourselves to carry on his mission of love, and that we might be able to do this, let us re-commit ourselves to the community of faith that comes together to hear his word and to receive him in communion.
And now, let us go in spirit to the hill of Calvary, and join with all our brothers and sisters throughout the Christian world. Let us pray that all hearts will be open to the grace that is continually being poured out over our suffering world from the heart of God.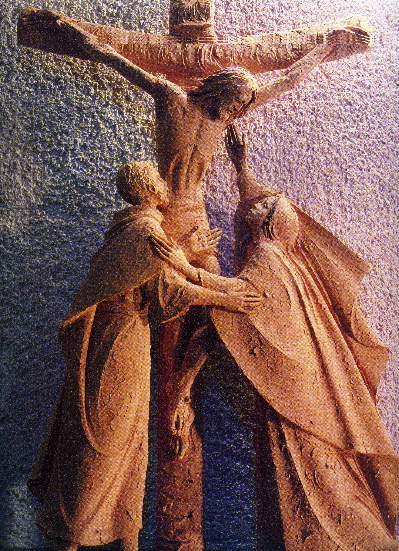 A reflection from "Sometimes Gladness" by Bruce Dawe (Longman, Cheshire)
And a Good Friday was had by all
You men there, keep those women back
and God Almighty he laid down
on the crossed timber and old Silenus
my offsider looked at me as if to say
nice work for soldiers, your mind's not your own
once you sign that dotted line Ave Caesar
and all that malarkey Imperator Rex
well this Nazarene
didn't make it any easier
really – not like the ones
who kick up a fuss so you can
do your block and take it out on them.
Silenus held the spikes ready and I let fly
with the sledge-hammer trying hard not to hear
over the women's wailing the bones give way
the iron shocking the dumb wood.
Orders is orders, I said after it was over
nothing personal you understand – we had a
drill-sergeant once thought he was God but he wasn't
a patch on you
then we hauled on the ropes
and he rose in the hot air
like a diver just leaving the springboard, arms spread
so it seemed
over the whole damned creation
over the big men who must have had it in for him
and the curious ones who'll watch anything if its free
with only the usual women caring anywhere
and a blind man in tears.