27th Sunday of the Year, Year C
Some of the loveliest words ever spoken by Jesus are given us by Matthew. They occur at the end of a section in which Jesus has been rejected by the religious leaders, who do not want him as their Messiah. The heart of Jesus, however, continued to go out to the people, for, as Matthew tells us: 'He had compassion for them, because they were harassed and helpless, like sheep without a shepherd'(Matthew 9:36). He invites them: 'Come to me, all you that are weary and are carrying heavy burdens, and I will give you rest. Take my yoke upon you, and learn from me; for I am gentle and humble in heart, and you will find rest for your souls'(Matthew 11:28-30).
This following icon has this text in ancient Slavonic: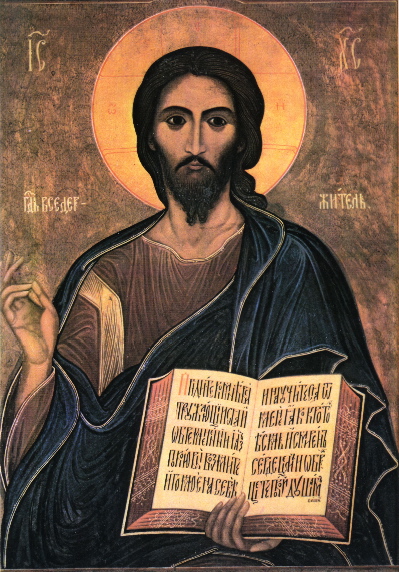 Elsewhere Jesus promised that when he was lifted up from the earth he would draw everyone to himself and so to his Father (John 12:32), and so his invitation is being offered to every person born into this world, through the Spirit of God who is constantly gracing us all.
Some of us have been given the wonderful gift of knowing Jesus and belonging to a faith-community that has within it the sacraments that nourish our souls and the rich traditions of theology and prayer that nourish our minds and hearts. Others have heard of Jesus but do not know our Catholic tradition. Others still have never known Jesus as he is and so are either ignorant of him or have rejected a false Jesus who does not satisfy their hearts. But, whoever we are, if we respond to his grace however we understand it, we have what today's gospel calls 'faith'.
There seems to be something wrong with the request made by the apostles: 'Lord, increase our faith'(Luke 17:5). They seem to be thinking of faith as a possession and a security. Jesus' parable makes it clear that faith is not something that we can earn. To have faith is to be like a flower opening to the sun. It is God who pours out his love upon us all, and it is God who has placed in us the capacity to respond. We can choose to remain closed to grace, but if we follow our deepest yearnings and choose to respond, let there be nothing but gratitude in our hearts for the gift of love so lavishly offered.
Jesus' concern in today's gospel is not with how much or how little faith we have. It is, rather, with how real our faith is. Are we truly open to God's love? Do we acknowledge that it is for this love that we are created and that everything we do that is of value comes from grace? Jesus picks up a mustard see – the tiniest seed he can find (much smaller than a pin-head), and he tells them that if they have real faith, though it appear as insignificant as this seed, everything will be possible for them, for it will not be they who are doing it, it will be God, the source of all life, for whom nothing is impossible.
Today's responsorial psalm (Psalm 95 in the Bible) is also concerned with how real our faith is, how genuine is our welcoming of grace. Incidentally, it is the psalm chosen to open the official Prayer of the Church each day. It was composed for an occasion like the present one. People are being encouraged to gather in God's temple and to celebrate their faith with joy, just as we have gathered here this morning. But then the psalm takes a sudden turn: 'O that today you would listen to his voice! Do not harden your hearts!'(Psalm 95:7-8). The psalmist reminds the people that it is not enough to assemble in response to God's invitation. We must heed God's voice. We long for the rest that comes from being at home with God. We will experience this rest only if we attend to what God is saying to us. Since God is love, the fruit of faith is always love. There is no other sign of its presence. 'A new commandment I give you', says Jesus, 'love one another as I have loved you … If you love me you will keep my commandments … and my Father will love you, and we will come to you and make our home with you'(John 13:34; 14:15,23).
The psalm warns us not to harden our hearts. If life has hardened them, let us remember God's promise: 'A new heart I will give you, and a new spirit I will put within you; and I will remove from your body the heart of stone and give you a heart of flesh'(Ezekiel 36:26). We were all given a share in Christ's faith - a share in his response to his Father's love - at our baptism. In today's second reading Paul reminds Timothy to fan that gift into a flame. In other words, to get on with a life of love. 'You have been trusted to look after something precious. Guard it with the help of the Holy Spirit who lives in us'(2Timothy 1:14).
Though it be as tiny as a mustard seed, our faith will be real when it bears fruit in love. As we approach communion today, let us pray that Jesus will pour his Spirit again into us, and that he will give us the gift of his faith-filled and loving heart.